Town Hall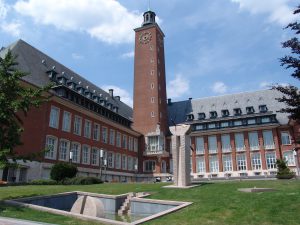 In the first half of the 19th century, the rural administration of Woluwe-Saint-Pierre didn't have its own offices.
The first town hall was built in 1860 at the corner of the Rue René Declerq and the Rue Louis Thys (the brick building had a stepped gable inspired by the Flemish Renaissance, and housed the municipality's school as well). It was demolished in 1958. The population growth of the municipality during the 20th century lead to a continuous increase in municipality services. The current building's location was chosen on February 2nd, 1948. The contest for the construction of the future building was won by the architects Guillaume – called 'Willy' – Vermeiren and Joseph-Paul Nicaise. The first stone was only laid on June 10th, 1961.
The wing dedicated to culture was decorated by Christophe Gevers and was the last part to be built. It was finished in 1971. The style of the building was described as the 'style from Brabant adapted to our era by the people at that time. It is a typical example of the revival of national architecture in the 1945-1955 period.
The architect chose to re-acknowledge traditional materials for the façades: white stone, red bricks and natural slates; openings of the 1st and 2nd floor framed with white stone. The figurative sculptures on the outside were sculpted by Alcide Mathieux. The town hall has a tower of 65m in height and is endowed with a clock containing the symbols of the zodiac and an electronic carillon containing 18 bronze bells which was mounted in 1969.
The Mayor's balcony is adorned with figurative sculptures made in 1964-1965: an allegorical siren representing the Woluwe and a Saint-Pierre with the municipality's coat of arms.
The interior – the lights, the furniture and the metal constructions – was designed by the architect Vermeiren. The Mayor's office is decorated with paintings on wood inspired by the Italian Renaissance, forming a continuous frieze made by the artist Robert Degenève displaying diverse scenes of life in Woluwe. Furthermore, the office contains a monumental chimney with a hood sculpted in stoneware from Brauvilliers, hallmarked by the aforementioned artist.
Go further in Remarkable buildings and places