Gangnam : Korea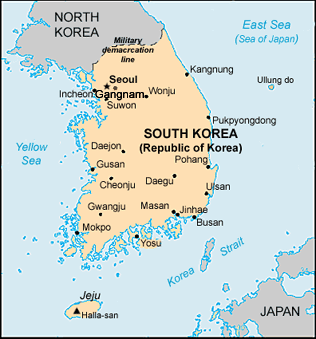 Area : 99,720 sq km (38,230 sq mi)
Population : 50.924.000 inhabitants
Capital : Seoul
Religion : Buddhist, Christian, Confucian.
Economy :
Industry : electronics, steel, chemicals, transportation equipment, textiles, food processing machinery.
Export crops : seafood.
Food crops : rice, fruits, vegetables, fish.
In barely two decades this capitalist country has grown into the world's 12th largest trading market. It also produces a lot of cars and uses electronics and computer components. South Korea is one of the world's foremost shipbuilders and a giant producer of steel and textiles. From 1980 to 1990 the economy grew from an average 10 percent a year, three times more than the U.S. and two times more than Japan. This growth is due to cheap and productive labor. Since the war with North Korea in the 1950s, U.S. troops some 35,000 in 1995 have guarded the northern border. After three dictatorships, free elections in 1988 ushered in a moderate government, tolerant of labor strikes and student-led anti-Americanism.
Source : National Geographic
Woluwe-Saint-Pierre and Gangnam :
On 25th June,1950, the armed forces of North-Korea crossed their border to penetrate in the Republic of Korea. This event is the beginning of the hostility that became important for more than three years in this country called "Country of the quiet morning". The importance of the North-Korean attack caused a huge reaction. At the time the United Nations called together the 16 countries member and decided to unite their forces to fight against this aggression. Belgium participated to this intervention. A monument was built in 1966 in Woluwe-Saint-Pierre (between Jules César Avenue and Général de Longueville Avenue) in memory of the Belgian volunteers who took part in this war. The engagement to this conflict gave between Belgium and Korean Republic a very particular relationship. Since then, Korean officials and important people come visit us. On this occasion, we put a lot of flowers around the monument.
The official twinning between the municipality and the district of Gangnam (part of the Séoul district) was created on June 21st, 1976. The two municipalities prosper to assure mutually the development and the improvement of common welfare by exchanging their knowledge and their experience in administration, culture, economic and social field, and also the consolidation to the existing tie of friendship between our two municipalities.
Visit the site http://www.gangnam.go.kr/
---
Go further in Twinnings