New Iberia : Louisiana – USA
New Iberia : Louisiana – USA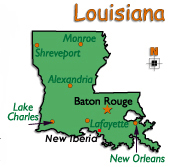 Pelican state area : 135.382 sq km (47,751 sq mi).
Population : 4.670.000 inhabitants.
Capital : Baton Rouge, pop. 224,700 inhabitants.
Economy :
Industry: chemical products, oil and coal products, food processing, transportation equipment, paper products, tourism.
Agriculture: seafood, cotton, soybeans, cattle, sugarcane, poultry and eggs, dairy products, rice.
The 1980s oil crisis took a heavy toll, offset in part by a lucrative and flourish seafood industry. Louisiana is the number one producer of salt in the U.S. Several petrochemical plants line the Mississippi from New Orleans-the country's busiest port-to Baton Rouge, and huge amounts of toxins are discharged into area waters. Another environmental challenge is to slow the loss of marshes-40 percent of the nation's coastal wetlands. New Orleans wants to preserve its Creole heritage in the architecture and foods of the French Quarter. In Lafayette, the heart of Cajun country, the descendants of Acadians expelled from eastern Canada in the mid-18th century still speak French.
Source : National Geographic
Woluwe-Saint-Pierre and New Iberia :
The twining between our municipality and New Iberia was achieved in 1979. New Iberia is located near Lafayette, Bâton Rouge, capital of the State of Louisiana, located at about 155 mi from New Orleans. In the heart of Acadia (south of Louisiana), New Iberia was chosen as twin city by our municipality because 45 % of its inhabitants mother tongue was French. Efforts have been made to promote French culture with French teachers sent over there.
Nowadays the use of French is declining because the use of English has been prescribed for years. If French isn't the mother tongue for some 32,000 inhabitants in New Iberia anymore, a new interest is born to promote French culture by teaching it in high schools and universities.
Each year, exchanges between both municipalities are organized. One of the aims of the twinning is to open young people to the world. Each summer, six teenagers from Woluwe-Saint-Pierre are hosted by families from New Iberia.
Some history :
1682 – CAVALIER de la Salle discovered territories on the edge of the Mississippi river and named them "Louisiana", in tribute to Louis XIV.
1699 – Pierre le MOYNE settled down with the first 200 French colonists on the edges of the Mississippi river and based the first capital city : Biloxi.
1718 – Founding of New Orleans, third capital city of Louisiana (after Biloxi and Mobile, based in 1711).
1756 à 1760 – Arrival of the Acadian people, banished by the English from Canada.
1776 – Independence of the United States of America.
1864 – English became the official language.
1921/1923 – The use of the Frensh language is forbidden in schools.
1968 – Founding of the CODOFIL. (Council which promotes the French language). Louisiana officially became bilingual.
Armorial bearings of New Iberia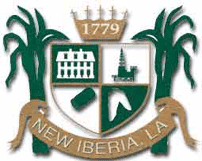 Visit the site www.iberiatravel.com
Go further in Twinnings