Passports
Population Service – Tel : 02/773.05.44 or 02/773.07.75
Description
Every individual (also children, even new-borns), must be titular of an individual passport since the country in which he or she goes requires a passport (or a visa) to allow the entry on its territory. (info)
When travelling without parents, parental authorization is required and implies the legalization of the signature of the person(s) who give(s) the authorization.
The order of a passport requires the presence of the person concerned.
Validity
5 years for minors (-18)
7 years for adults
Documents to bring:

identity card
if possible, previous passport
a recent color photograph (taken less than 6 months ago !) with withe background, format 35mm x 45mm (quality criteria have to be conform the regulations of the International Civil Aviation Organization (ICAO)). Only photographs printed on classic photo paper will be accepted. For further information, please click here.
Delivery
Normal procedure: 7 working days
Urgent procedure: 2 working days
Cost:
Normal procedure: 35,00€ for minors (-18); and 75,00€ for adults
Urgent procedure: 210,00€ for minors (-18); 250,00€ for adults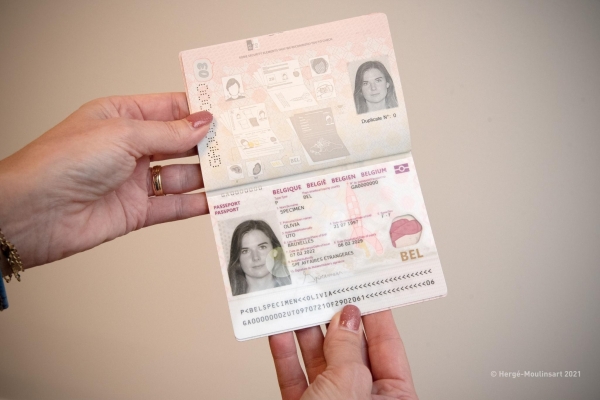 © Hergé-Moulinsart 2021 © Zetes 2022
Go further in Civil Status and Population